Bulgarian Talking Dictionary CD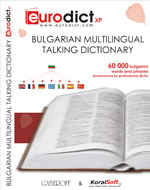 This product contains: Bulgarian-English, Bulgarian-German, Bulgarian-French, Bulgarian-Italian, Bulgarian-Spanish, Bulgarian-Greek and Bulgarian-Turkish language data bases. All 60,000 Bulgarian words in the dictionaries are pronounced by a professional announcer. This product can be used independently with the above dictionaries or in addition to already installed dictionaries from EuroDict XP Pro or Talking series with pronunciation of Bulgarian words.
---
Word of the day:satinette
---
= satinete n текст. сатинет.
online version

The online dictionary

is free to access and use and allows seeking words and expressions in, and from, original to, and from, recipient languages. Presently the online dictionary contains all databases that we offer: English-Bulgarian, German-Bulgarian, Italian-Bulgarian, Spanish-Bulgarian, French-Bulgarian, Greek-Bulgarian, Turkish-Bulgarian, Turkish-English, Turkish-German, Turkish-French and Bulgarian Encyclopedic Dictionary. The access to any of named dictionaries takes place from the grey search field located above. The dictionary databases are the same as in the PRO versions of EuroDict XP. You might use it as a preview of the translation quality and content of the product you are interested in.

download version

EuroDict XP is a state-of-the-art computer dictionary using minimum system resources and using simple, intuitive interface, while offering to users a spectacular number of options to choose from.
Eurodict FREE fully corresponds to its name, as it is a free-of-charge version containing abbreviated versions of PRO dictionaries, as well as dictionary databases supplied by users and associates. All packages include EuroDict XP last version (3.0). Free versions of databases include a compulsory user-contained list of words, which may not be changed by user. Pronunciation is possible only for words included within. Teaching methods have limited options too. However, it is possible to install and use at the same time both paid and free-of-charge versions of databases.

CD version

EuroDict XP talking

is the most featured version of our dictionaries, containing pronunciation of words for the main language and fully functional methods of training. This version is very suitable and useful for people studying that language. Additional option is to buy

a disk containing all audio files for Bulgarian

, which might then be added to all databases that include it. For any additional information and instructions on how to use our products, please read the 

manual

.
English Bulgarian Dictionary
EuroDict XP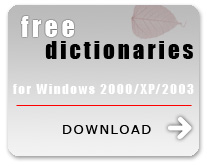 now available in our online store

A great number of pocket electronic dictionaries and translators is now available for purchace from our online shop!
The electronic assistants can translate and pronounce words and phrases in many languages including: English, German, Spanish, Italian, Albanian, Arabic, Viatnamese, Chinese, Turkish, Greek, Russian, Hebrew, Bulgarian, and more.
---
Random word:glucoside
---
n биохим. глюкозид.
A, B, C, D, E, F, G, H, I, J, K, L, M, N, O, P, Q, R, S, T, U, V, W, X, Y, Z,